Baltimore, MD - Jan. 13, 2022 - This year, TU B'SHVAT (15 SHVAT) will occur on MONDAY, JANUARY 17.
Please refer to the STAR-K Checking Fruits chart for guidance.
Click on the image BELOW to download a PDF of this chart.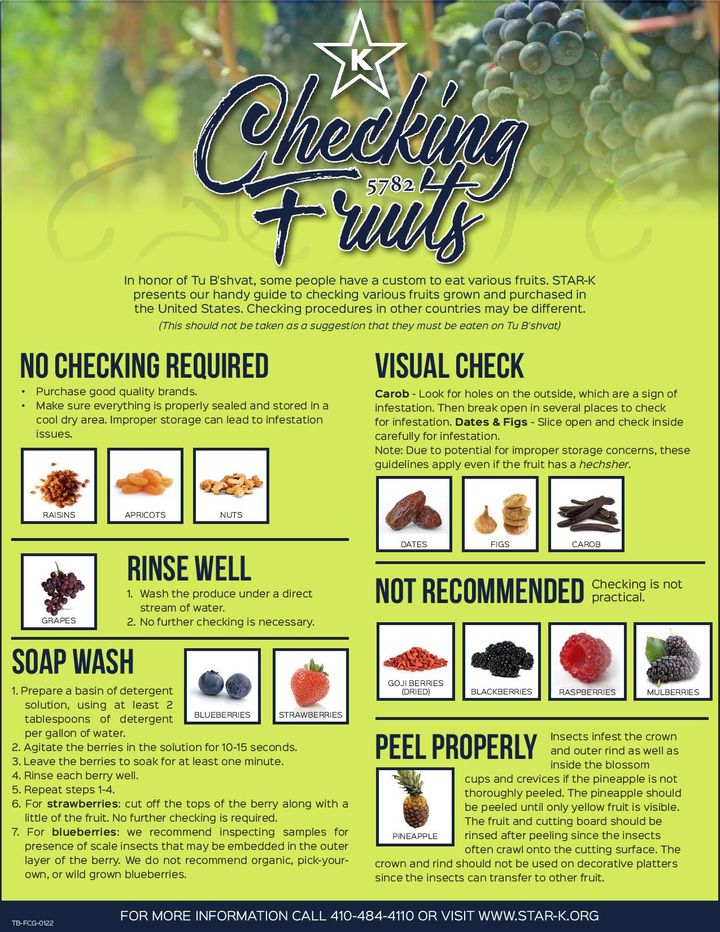 Click HERE to download STAR-K's Full Guide to Checking for Bugs.
SHEMITA ALERT: Consumers should be aware that there are many vegetables (mainly peppers, carrots, herbs, radishes) from Israel on the market in the USA at this time.
See HERE to download STAR-K's Shemita Primer for Chutz La'aretz.
@font-face {font-family:"Cambria Math"; panose-1:2 4 5 3 5 4 6 3 2 4; mso-font-charset:0; mso-generic-font-family:roman; mso-font-pitch:variable; mso-font-signature:-536869121 1107305727 33554432 0 415 0;}@font-face {font-family:Calibri; panose-1:2 15 5 2 2 2 4 3 2 4; mso-font-charset:0; mso-generic-font-family:swiss; mso-font-pitch:variable; mso-font-signature:-536858881 -1073732485 9 0 511 0;}@font-face {font-family:Tahoma; panose-1:2 11 6 4 3 5 4 4 2 4; mso-font-charset:0; mso-generic-font-family:swiss; mso-font-pitch:variable; mso-font-signature:-520081665 -1073717157 41 0 66047 0;}@font-face {font-family:Roboto; panose-1:0 0 0 0 0 0 0 0 0 0; mso-font-alt:Arial; mso-font-charset:0; mso-generic-font-family:roman; mso-font-format:other; mso-font-pitch:auto; mso-font-signature:0 0 0 0 0 0;}p.MsoNormal, li.MsoNormal, div.MsoNormal {mso-style-unhide:no; mso-style-qformat:yes; mso-style-parent:""; margin:0in; margin-bottom:.0001pt; mso-pagination:widow-orphan; font-size:11.0pt; font-family:"Calibri",sans-serif; mso-fareast-font-family:Calibri; mso-fareast-theme-font:minor-latin;}p {mso-style-noshow:yes; mso-style-priority:99; mso-margin-top-alt:auto; margin-right:0in; mso-margin-bottom-alt:auto; margin-left:0in; mso-pagination:widow-orphan; font-size:11.0pt; font-family:"Calibri",sans-serif; mso-fareast-font-family:Calibri; mso-fareast-theme-font:minor-latin;}p.paragraph-spacing-none, li.paragraph-spacing-none, div.paragraph-spacing-none {mso-style-name:paragraph-spacing-none; mso-style-unhide:no; mso-margin-top-alt:auto; margin-right:0in; mso-margin-bottom-alt:auto; margin-left:0in; mso-pagination:widow-orphan; font-size:11.0pt; font-family:"Calibri",sans-serif; mso-fareast-font-family:Calibri; mso-fareast-theme-font:minor-latin;}.MsoChpDefault {mso-style-type:export-only; mso-default-props:yes; font-size:10.0pt; mso-ansi-font-size:10.0pt; mso-bidi-font-size:10.0pt;}div.WordSection1 {page:WordSection1;}