Unbeknownst to many, the STAR-K organization - a massive and well-known Kashrut agency in a competitive market - has undertaken a unique approach to their strategy. Aside from their expertise in Kosher certification in every area of food production, STAR-K has also undertaken to support the religious development of several smaller communities where the placement of a rabbi can work providing certification and also be present to undertake prayer services and perform other religious functions.
………………………………………………………………………………………………………………………………………………………………..
SSC interview with Rabbi Goldschmidt:
We originally heard about the unique position from Rabbi Kassin, the Rosh Yeshiva of Midrash Sephardi in the Old City of Jerusalem where we had completed our semicha and were introduced to STAR-K. Within a very short time, I flew to India to meet with Rabbi Joel Weinberger of STAR-K and, also, with the ancient Jewish community of Cochin, India.
After extensive training and a pilot trip with my wife and two children, we settled into what has become, for us, not only the adventure of a lifetime to assist in running the Paradesi Synagogue, but also a wholesome and productive time for our family. We found a genuine and warm welcome both from the local Jewish and Indian community and we quickly felt comfortable and at home in our new surroundings.
STAR-K worked overtime to cater for our needs as an Orthodox Jewish family in the south of India with young children, and to deal with the paperwork and bureaucracy needed to live and work there.
The position itself is one of a great amount of travel and adapting to change. I have performed over 400 plant visits across Asia as a mashgiach in a variety of settings and learned incredibly interesting things about food production - and have taken some journeys into parts of India that few have had the privilege to see.
Some of the more memorable moments for us at India's oldest running synagogue have been the dedication of a new Sefer Torah that we brought from the Old City of Jerusalem across India in hand luggage to the Paradesi Synagogue, and the renovation and reactivation of the only kosher mikveh in Southern India - managed and run by my wife.
With the help of the Hallegua family, the community undertook renovation and opening of a hall near the synagogue to provide the Shabbat and Festival meals for the thousands of Jewish visitors the synagogue receives.
The honor of being present as guests and running a prayer service for the rebuilding of the Kadavumbhagam (Ernakulam) Synagogue - originally built in 1549 - was a celebration made more jubilant by the presentation of a Sefer Torah gifted from a synagogue in Israel.
After some time, STAR-K strengthened this beautiful and successful initiative by the addition of Rabbi Shai Beneli and his wife to be assigned to the Jewish community of Kolkata, India.
Kolkata has had a Jewish community for about 200 years, and they have built one of the biggest synagogues in Asia. For about 40 years, there has been no rabbi to guide the Kolkata community -- but, thanks to STAR-K and Midrash Sephardi, they were able to be with the Kolkata community for half a year. Half a year where every single Shabbat we were able to host prayers in the magnificent Maghen David synagogue. Half a year that we had the ability to bring back life to the synagogue and to help reconnect the community with its roots. Some members of the community got the chance to experience preforming the mitzvot of some holidays for their very first time. We were able to see that, with our time and consistency that we spent in Kolkata, the community was reviving its connection to Judaism.
Prior to the placement of rabbis in India, a great deal of the Kashrut was undertaken by overseas Rabbis at great cost in terms of travel. STAR-K is privileged to have worked with Rabbi Levie and his son Yoffiel, from Mumbai, who in addition to speaking the local languages have in-depth first-hand knowledge of the food industry in India. Their assistance and guidance, especially during initial training, was invaluable and has helped us to understand the specific issues in India in terms of food supply chains and production methods. Their knowledge, support and understanding of India have been crucial for our success.
Throughout our experience we were able to remain in contact with Rabbi Kassin and his Halachic advisors from Midrash Sephardi - as well as STAR-K, itself - to ensure that things were undertaken the correct way to suit a variety of requirements. We are proud of the Halachic standard we have been able to uphold for the synagogue, mikveh, and the Kashrut of food production, all made especially complex by the location.
From delivering kosher food, meat and wine across Asia for us, to sending Chazanim, Mashgichim and Rabbonim from Israel and abroad to India -- to assist us in running all services, festivals, the mikveh and many other circumstances requiring rabbinical supervision – STAR-K has assisted countless individuals with their ability to keep kosher and maintain Orthodox practice, worldwide.
With the assistance of STAR-K, it became more possible to visit other communities in India and provide services, ritual items, and kosher food to places which could not otherwise have been possible. We hope that with our hospitality and services we have been able to provide warmth and kiruv in a unique location and opportunity.
Although, for the time being, the Coronavirus may have impeded our ability to perform shlichut for the communities, it has in no way slowed the ingenuity of STAR-K as it performs remote Kosher auditing at a variety of plants deemed suitable. We were privileged to be amongst some of the first to pilot and test the system and see its limitations as well as its advantages.
We look forward to further adventures with new and existing communities in the coming years, and hope that we can return soon to the beautiful Paradesi Synagogue and to one of the most exciting chapters of our lives.
Reprinted with permission. This article first appeared in the Shehebar Sephardic Center publication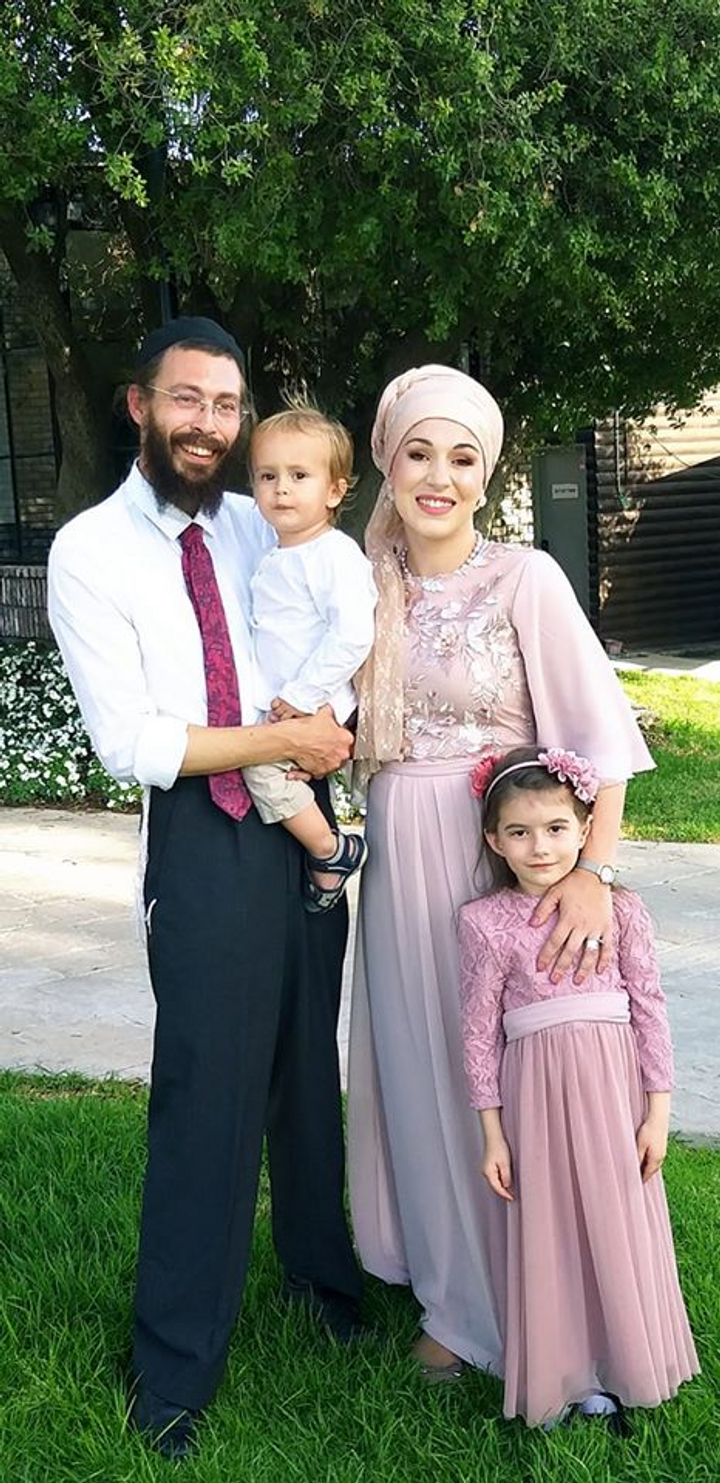 The Goldschmidt Family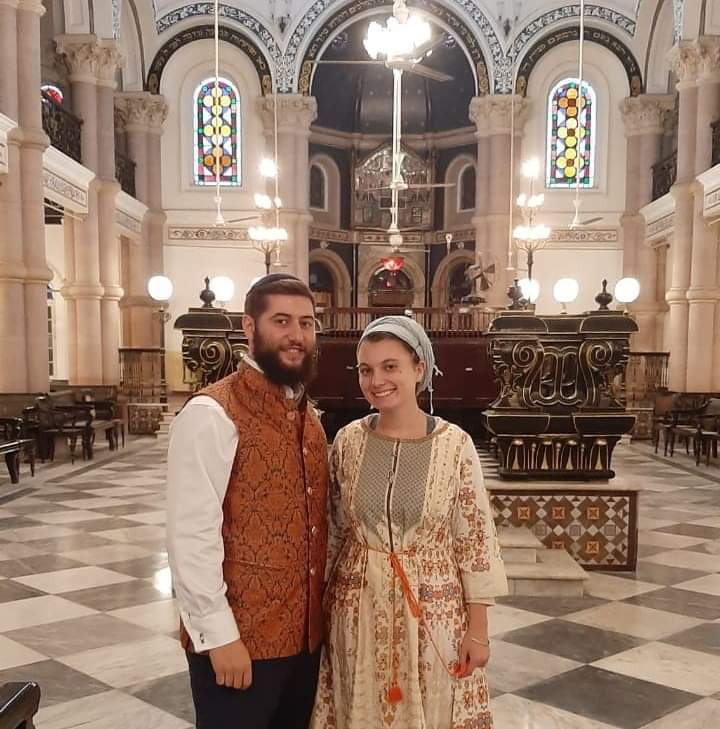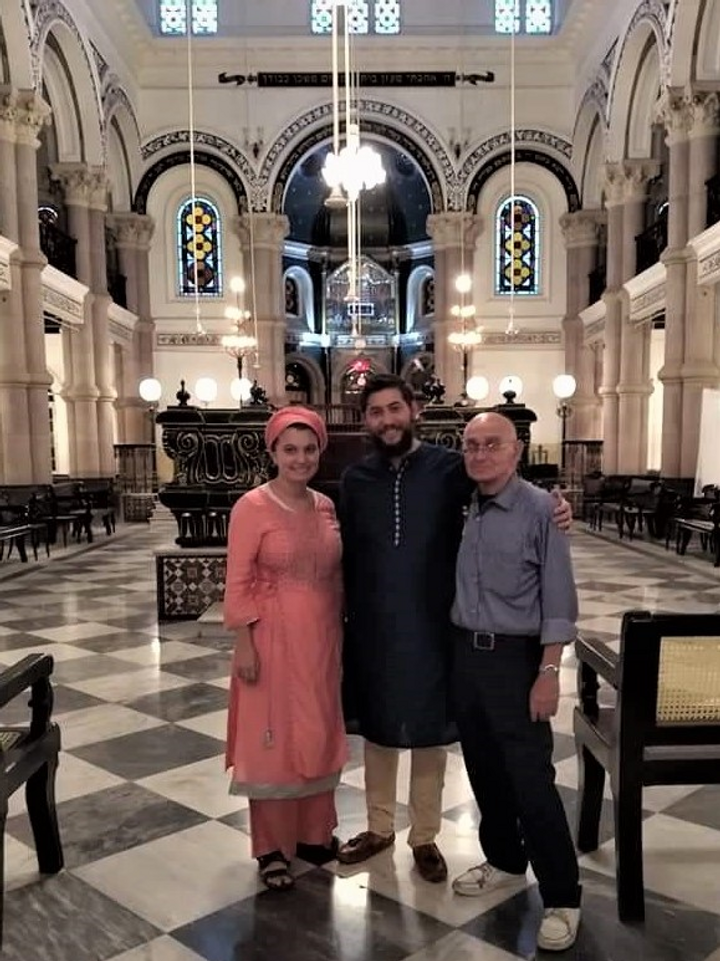 Rabbi Shai and Rebbetzin Maayan Beneli in the Magen David Synagogue in Kolkata (formerly Calcutta), India