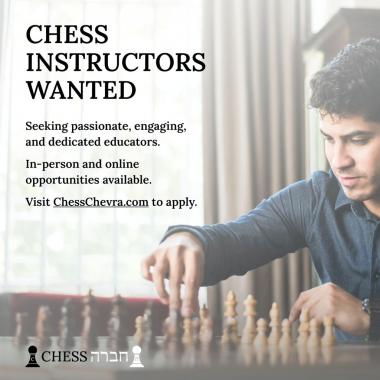 Seeking Chess Teacher for Schools in Baltimore
Chess Chevra is a program for students and schools around the world. We offer school partnerships, small group and private classes, and tournaments for students of all levels, ages 5 through adult. We are looking for dynamic and caring instructors in the Baltimore area who are excited to bring out the potential in each and every student. Generous compensation based on experience. Apply at ChessChevra.com.

What: Chess Teacher at an elementary/middle/high school chess program in Baltimore.

When: Each school is different.

Start Date: September or October depending on the school.

Qualifications: 1200+ rating, 2+ years of chess teaching experience, passion for working with kids, ability to tailor lessons to a variety of levels, classroom management skills, responsibility.

Apply today at ChessChevra.com!

If you have any questions, please feel free to reach out to info@chesschevra.com.
For More Information, please contact Chess Chevra info@chesschevra.com