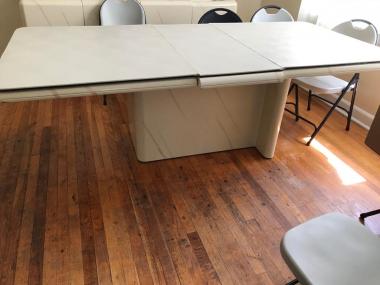 Dining room table and buffett
Beautiful marble colored dining room table. Gently used for holidays and family gatherings. Comes with an 18 inch leaf, a protective matt. Solid piece of furniture. Can easily seat 6-8 adults. Table w leaf
L x W xH
89 x 42 x 29. W/o leaf 71x42x29. For another $150 you can have the matching Buffett
Buffett
82 x 20 x 31
More pictures available upon request.
Price: $400.00
For More Information, please contact Yehoshua Schreibman at (908)510-3764 or Schreib3@gmail.com