Baltimore, MD - Sept. 14, 2020 - Our world is tired. Tired of uncomfortable masks and failing markets. Tired of changing guidelines and challenging circumstances. Tired of children at home and heart-breaking stories. Tired of uncertainty and unknowns. The shofar calls us to wake up, but we are exhausted. Simply put, we are weary and ready for the COVID crisis to end.
Once in a lifetime crises call for one of a kind inspiration. Rabbi Y. Y. Jacobson is a wildly sought out speaker, who has been energizing and invigorating audiences around the globe. One of America's premier Jewish thinkers and leaders, he serves as a mentor to hundreds of thousands and is considered one of the most passionate and mesmerizing communicators of Torah and Hashkafa in today's generation.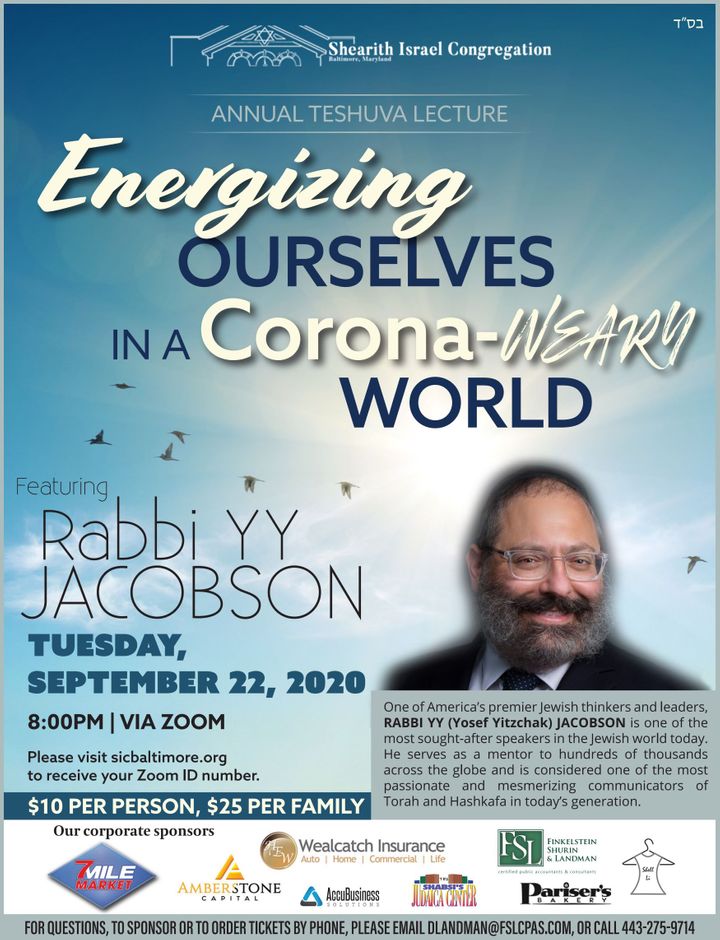 For its annual Teshuva Drasha, Shearith Israel is bringing Rabbi Y. Y. Jacobson's message live to Baltimore through a Zoom address right when we need it, at the beginning of the Asseres Yemai Teshuva. Join us by Zoom at 8 pm on Tuesday September 22 as Rabbi Y. Y. Jacobson leads us in "Energizing Ourselves in a Corona Weary World".
Tickets are $10 per person and $25 per family. Visit sicbaltimore.org to purchase tickets and receive your Zoom ID number. For questions, to sponsor or to order tickets by phone, please email dlandman@fslcpas.com, or call 443-275-9714.